Talk about getting the story wrong.
The Daily Pilot reported yesterday that a Laguna Beach driver had attempted to crash his car into a bicyclist who tried to stop him after he'd hit another rider.
But what they failed to mention was that the first crash was intentional, as well.
The Laguna Beach Police Department reported on their Facebook page that the driver fled after intentionally crashing into a man riding his bicycle, then trying to run over the second rider as he attempted to confront him.
Thankfully, he missed.
Fifty-three-year old Laguna Beach resident Kevin O'Neill was arrested on Saturday, after witnesses and victims picked his photo out of a lineup following the twin attacks Thursday morning at Bluebird Canyon Road and South Coast Highway.
No word on the condition of his victim.
Fortunately, this took place in Orange County, where the DA takes traffic crime seriously.
But let this serve as yet another reminder that it's not worth your life to confront an angry driver.
Gather whatever information you can, from the make, model, color and license of the vehicle to a description of the driver, as well as any photos or video, if possible.
Then get hell out of the way and let the police deal with it.
Mug shot of Kevin O'Neill from Laguna Beach Police Department Facebook page.
………
Let's catch up with a couple of quick stolen bike announcements.
Bobby Close of LA's popular Velo Club La Grange sent the following notice.
One of our members had his bike stolen recently in Ventura California, his name is Marc Thomas. His bike should be easy to spot as it's a 66cm custom made Landshark bicycle YES Marc IS TALL!!! Marc is one of the great members we have in LaGrange as he is constantly teaching new and old cyclists in his world famous " Drills for Skills" clinics. Along with being a key member of the club he was one of the many people instrumental in making the Brentwood Grand Prix happen for so many years.

Attached is a picture of the stolen bike. The bike should stand out as only NBA basketball players are tall enough to ride it.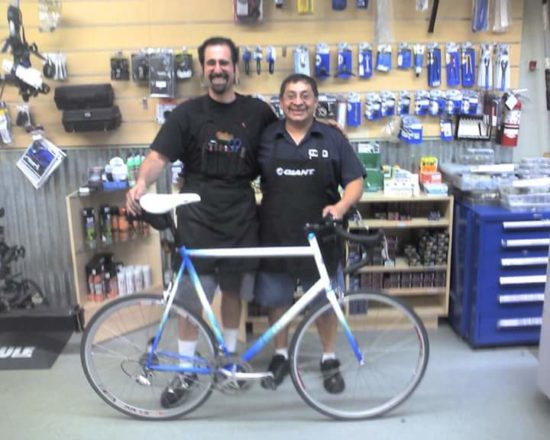 I've asked for additional information on exactly when and where the bike was stolen, but haven't heard back yet.
And Mina Moskol of the LACBC's Santa Clarita Chapter forwards a flyer for a bicycle stolen from one of the competitors in the World Police and Fire Games staying at a Palmdale hotel last week.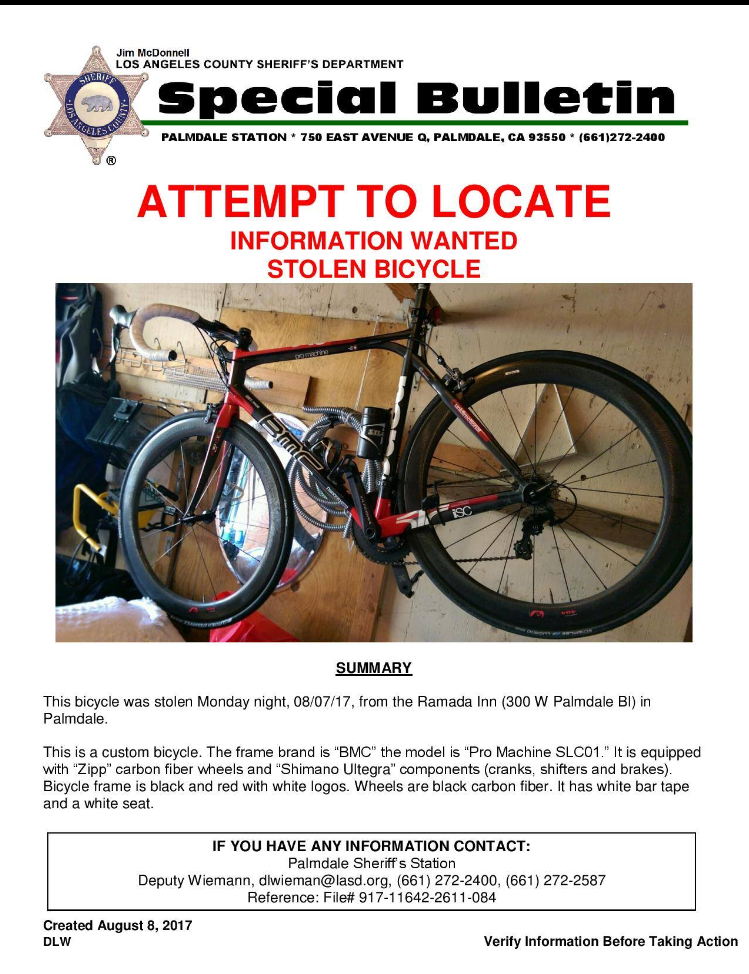 ………
In the never-ending battle over the Playa del Rey traffic safety improvements, the Neighborhood Council of Westchester/Playa will debate a motion to approve a letter calling for a reversal of the all the Playa del Rey lane reductions at tonight's meeting.
Despite what opponents of the Venice Blvd Great Streets project are saying, Sweet Lucie's Ice Cream in Mar Vista may be closing, but it has nothing to do with the lane reductions.
And a new online petition asks you to show your support for Vision Zero in the face of attacks from angry drivers and talk radio jocks.
………
Forget the worst retirement ever; LA's own former pro Phil Gaimon ranks the top ten cookies in the United States.
……….
We'll catch up with bike events later this week, but I can't resist this one. Which could be the best idea for a kid's bike safety workshop ever.
……….
Spoiler alert: If you haven't the final stages of the Colorado Classic yet, skip this section.